Construction News
Estimating Tutorial
PlanGrid launches new feature: Sheet Compare
PlanGrid announces the launch of its new feature, Sheet Compare, which allows users of the construction collaboration platform to overlay multiple sheets. Using Sheet Compare, users can perform faster constructability reviews by overlaying different construction plans for any given area.
A sheet overlay feature was repeatedly requested by users—and PlanGrid listened: "Our clients told us that the ability to compare drawing sheets in the field would be incredibly valuable to them, which makes sense because you can't take a light table out on site. So we built the most elegant, simple way to compare sheets that this industry has ever seen," said Tracy Young, PlanGrid CEO and cofounder.
Sheet Compare is available as an update to PlanGrid on iOS devices. Sheet Compare saves time, money and frustration by helping users identify clashes between different construction disciplines before anything is built, on their mobile device, out in the field—a first for the construction industry.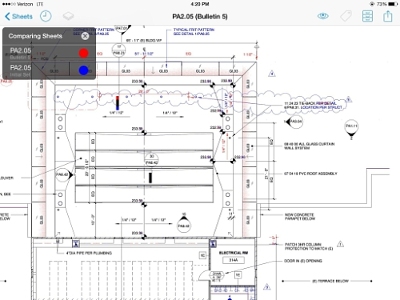 "I'm so happy to get this feature into our users' hands," said Russ Bishop, senior software engineer at PlanGrid. "That's what I love about being a software engineer. I can spend hours, days or weeks working on something that can make our users' lives easier by saving them minutes or hours."
Simple and effective. That's what Bishop wanted for Sheet Compare users—and that's the sentiment echoed by Ryan Miller, project manager at Plant Construction Company."Sheet Compare is ingenious—it's incredibly easy to use and a very helpful feature when you need quick, quality info."
###
About PlanGrid
PlanGrid is construction software made for the field. Its cloud-based construction document collaboration platform is being used by major construction firms on more than 300,000 projects and is storing more than 30 million construction documents digitally. PlanGrid's platform allows plans and markups to be instantaneously shared with everyone on a construction project, no matter where they are. It lets contractors, architects, and building owners collaborate from their desktop or mobile devices across all of their project plans, specs, photos, RFIs and punchlists. The company emerged from Y Combinator in 2012 and has since secured funding from Sequoia Capital, Tenaya Capital, Founders Fund, Northgate, Box, 500 Startups, Y Combinator, Navitas Capital, and Google Ventures.