GenieBelt - A FREE App to help you build better
Construction projects can be quite demanding especially with timelines attached to it. The need to be on top of your project can sometimes suck out your creative genius. However, with the use of the GenieBelt Free Construction app you can now monitor and track your construction jobs while on the go. The Live Progress Report, Record of Tasks, Notifications, Swift information dissemination, etc are some of the benefits derivable with the use of this app.
The contemporary styles and needs of today's construction job needs to keep all concerned parties on the same page. This is easily achievable with data, messages, task allocation, pictorials, etc that this app has to offer. The GenieBelt Free Construction app gives a strong base and platform for all you need to do right in the palm of your hands.
Most importantly, the GenieBelt Free Construction app is better experienced than imagined. Join the savvy team of satisfied users and make your construction job experience a very engaging and fruitful one.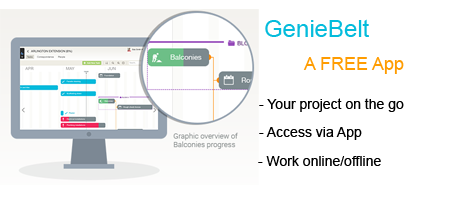 Visit to get the GenieBelt Construction App at : http://geniebelt.com/