Construction App: SurePayroll – Mobile Payroll
It is a mobile app developed by SurePayroll Inc. if you have a SurePayroll account, then this app is free for you. The application can be accessed on all kind of android phones and apple devices.

SurePayroll can be accessed 24 hours a day and 7 days a week by using the SurePayroll account. This app is used for calculation of wages, benefits, increments, deductions and pay for employees with paper check or direct online deposit in banks. The app has an option to add wages and hours of work, sick and personal time for hourly salary and vacations and holidays. It also allows the users to add data for 1099 contractors.
As soon as the wages and data is submitted, it notifies the approver and can get approved in just seconds no matter what the position is. This app can also be used to deposit as well as file the payroll taxes.
Using this app, you can achieve following features.
Notification for approval alerts and submissions of payroll' payroll totals can be previewed and reviewed and payment methods can be observed for accuracy; check dates can be changed; summary reports can be obtained for previous payrolls; direct deposits can be stopped; contact information of employees can easily be accessed; deadlines, bank holidays, birthdays and any updates can be viewed on calendar; reports for earning, deductions and taxes can be obtained and non storage of private information.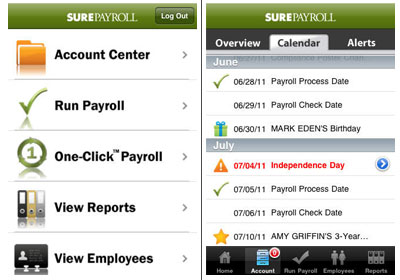 The app is available for Apple and Android Devices