Mechanical Engineer - A Useful App for Engineers with 300 Formulas
Official Description:
MECHANICAL ENGINEER, part of MultiEducator's iPhone "Formulator" Line, is the perfect tool for any Mechanical Engineer or engineering student. Our Mechanical Engineer app contains over 300 important mechanical engineering formulas, there are over 300 additional conversion formulas in the program as well as 70 area formulas.
Major areas covered in the program now include: Actuators Bearings, Belts, Boiler, Brakes, Clutches, Elevators, Gears,Fluid Power, Heat Transfer,Internal Combustion, Kinetic Energy, Metalworking, Plates, Plumbs, Power Plants, Refrigeration,Shafts Springs and Vehicle Drive.
Some of the 300 formulas currently included are:
• Belt Design Horsepower Drive Speed Ratio
• Bearing
• Required Length of Bearing
• Rate of Bearing Heat Generation
• Wall Area
• Bearing Heat Dissipation
• Heat Rise in Bearing
• Brakes
• Torque Required to Stop Load
• Revolutions Prior to Stopping
• Heat Brake Must Dissipate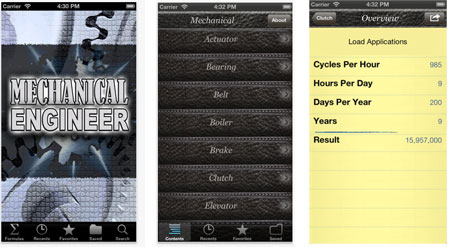 Read more and Download Mechanical Engineer App today at:
multieducator.net/formulator/Mechanical.html