Construction Master Plus Ez (Cmp Ez)- A Construction Calculator
Construction master plus EZ is a calculator. It works as the user presses the building project key and then scrolls throughout the calculator with features like placements, materials, quantities, measurements and many more. The calculator is a product of company named Calculated Industries Inc. this calculator can be very helpful to business personnel and owners.
This construction calculator is filled with many features most important features include built in calculations upto 140. Using this calculator can provide common rafters/ hip valley rafters, stairs and jack rafters with basic as well as advanced solutions. Instant quantities of materials can be obtained using the key mentioning built in materials.
The calculator can also calculate materials required for grout, blocks, tiles, drywalls, studs, fencing, roofing, footings and pavers. Problems can be resolved with this by just scrolling back to change measurements. Built in solutions in construction master plus EZ include spacing, square ups, polygons, areas and volumes, compound angles, circular, crown molding, arcs, elliptical arches, rake walls, cap wall and open wall, arch studs and balusters.
The gear case of calculator is made up of Armadillo which is rugged shock, dust resistant and moisture resistant.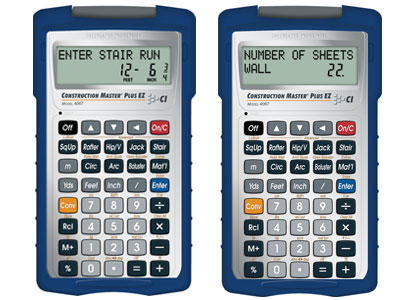 For more info : calculated.com