Win more Projects with FREE Construction Estimator and Bidding App
Want to Quickly create onsite estimates for construction projects? Want to win more business? Start leaving out papers work, dragging laptops and calculators. The tool you need is already launched. Download Snappii's Free Construction Estimator and Bidding app. The app allow you to create a construction project estimates on the go using your smartphone or tablet.
With this construction estimate and bidding app you can easily create:-
- Quantify labor, material, subcontract and other costs.
- Evaluate the amount of the work to be done.
- Automatically calculate estimates including the taxes.
- Generate PDF Estimates and immediately email to client, co-workers and others.
- Store Estimates on your device or in the cloud so that you can find, print or share them anytime, anywhere.
With speed you will win more proposals! Save time and money! The Construction Estimator and bidding app is 100% customizable by you or by Snappii Apps team.
For more information, please visit www.snappii.com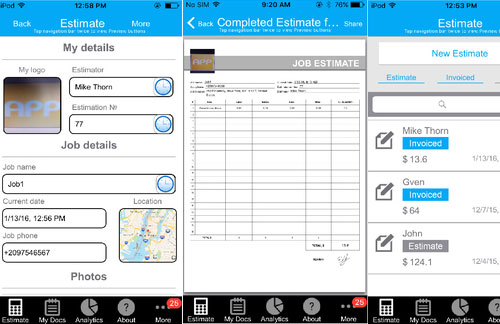 Download Construction Estimator and Bidding App today at Google Play or App Store for FREE.