Download Reinforced Concrete App - Make Quick Parameters, Beams Calculation
Introducting Reinforced Concrete App, a very useful and smart app for civil engineers. With the help of Reinforced Concrete App, users can make quick parameters' calculations of beams and reinforced concrete slab not only in the office but also at the construction site.
Reinforced Concrete contains:
1. Beam – Bending
2. Beam – Shear
2a. - Beam – Torsion with Shear (Premium - NEW module - stirrups spacing is calculated to carry both: shear and torsion)
3. Column – BIAXIAL Bending
4. Column - Tension
5. Wall – Uniaxial Bending
6. Slab – Punching Shear
7. Slab – Punching Shear
8. Concrete characteristics (EC2)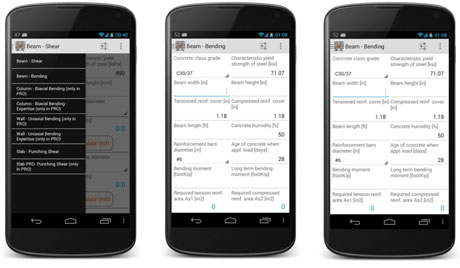 The Reinforced concrete app comes with a Free version as well as a premium version. Donwload free version today at Google Play.