Download Civil Engineering App - Handbook of Civil Engineers
Download Civil Engineering App - Handbook of Civil Engineers
This Civil Engineering App is a Handbook of Civil Engineers. Lecture and note are archive.
The app works offline even if you have no internet connection in your mobile device.
Civil Engineering App includes topics :
- 3,000+ topics, documents, book words with images
- Dictionary / Construction Terms
- Building Design and Construction
- Structural Analysis
- Concrete
- Earthquake Engineering
- Managamet Of Construction
Do more like Surveying, Concrete Construction, Soil Mechanics and Foundations, Structural Steel Construction, Concrete Construction
The Civil Engineering App is fully free.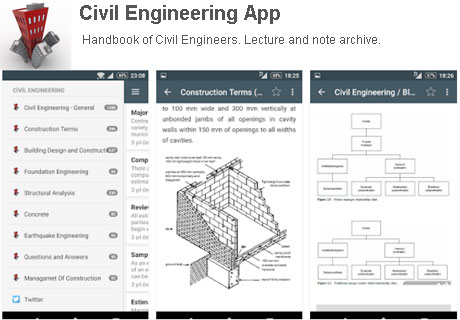 Download Civil Engineering App Free today from Play Store or visit at:
http://bit.ly/1K4iwza