Review of CostX Estimating - The complete 3D/BIM and 2D estimating solution
CostX is a Construction Estimating Software with an On-screen Takeoff System. Get benefits of 2D Takeoff, 3D BIM Takeoff, Workbooks, Auto-Revisioning, Subcontractor comparison, Paperless estimating and more.
CostX® Features
2D Takeoff
Quickly and accurately measure from scanned, PDF or CAD drawings.
3D / BIM Takeoff
Easily view and generate automatic quantities from 3D BIM.
Workbooks
Workbooks live-linked to drawings and user-defined rate libraries. Unlimited code libraries and zoning for sorting.
Auto-Revisioning
Compare drawings, highlight changes and update the quantities and workbooks.
Subcontractor comparison
Subcontractor comparison workbook with associated reports.
Paperless Estimating
Work in a paperless electronic environment and email your report with the free CostX viewer.
CostX Estimating Software Tutorial: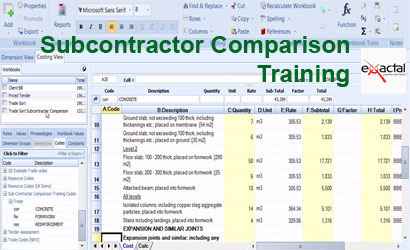 Read more about CostX Estimating Software at :
http://www.exactal.com/