Civil Engineering Dictionary App by Julia Dictionary Inc - Download FREE
Official Description:
Are you looking for the best Civil Engineering Dictionary App then download this app for free by Julia Dictionary Inc.
Main Features:
1. Equipped with quick dynamic search function (Fuzzy Logic) – The dictionary will start searching for the words while you type.

2. Bookmark – you are able to bookmark all your favorite translations for fast reference to your favorites list by clicking on the "star" icon.

3. Managing Bookmark Lists – you are able edit your bookmark lists or clear them.

4. Add New Words/ Terms – you will be able to add in and store any of the new terms in this Dictionary.

5. > 5,000 words – Included all the popular and daily use terms in the dictionary.
6. FREE – It is completely free. Download at no cost. FOC.

7. Work Offline – It work offline, no active internet connection is required. Perfect for your trips or when no data connection is available.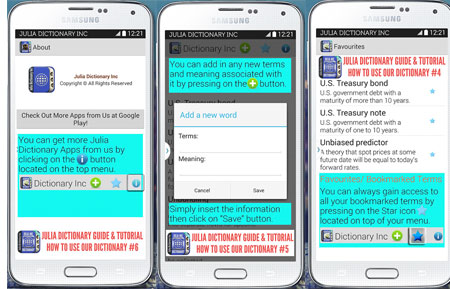 Download Civil Engineering Dictionary App by Julia Dictionary Inc at Google Play